A different kind of book review – Deeply Odd
By Carol / April 21, 2015 /
Memoirs and historical fiction are my normal reading choices. But every so often, I enjoy trying something different. Recently I caught a Dean Koontz interview on the CBS Sunday Morning show. Though I'd seen his books on bookstore and library shelves, I'd never cracked one open. A recent road trip gave me plenty of listening time, so I chose Deeply Odd, from Koontz's Odd Thomas series.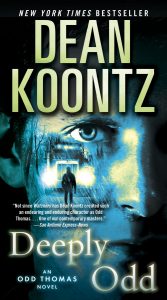 If you haven't read any of the books, here's the premise: Odd Thomas is a young man who can see and talk to dead people. He uses this skill to combat evil in the living world. In the process, he helps these dead people, including such luminaries as Elvis Presley and Alfred Hitchcock, resolve whatever earthly issues they have so they can pass on.
As a reader, I found the story a real page turner – or since I was on the road – a miles burner. As a writer, I was blown away by Koontz's skill.  So here, in a book review of a different type – are some of the techniques I noticed in Deeply Odd and Brother Odd, another book from the series.
Complex, vivid, characterization
Koontz develops fascinating characters who are revealed through physical and personality descriptions, which are reinforced throughout the book. Odd Thomas, for instance, frequently describes himself as: "only a fry cook, currently unemployed." This self-deprecating description is reinforced by Odd's dialogue. For instance, Odd uses polite formality when he addresses others. He addresses others as, "ma'am" and "sir." Every time, even if someone asks him to use their first name.
Attention to details of clothing and place
Koontz pays great attention to how people look, what they're doing, and the physical surroundings. He dribbles this information in over time so the reader isn't tempted to skip over paragraphs bogged down in description.
Here's how Odd describes a policeman:
"In the side mirror, the man who got out of the patrol car looked like Hercules' bigger brother, a guy who at every breakfast with his dozen eggs and pound of ham drank a steaming cup of steroids."
A few paragraphs later, Odd adds:
"A massive cop loomed at my window blocking the morning sun as effectively as an eclipse. He bent down and looked into the car, mouth puckered in a frown, grey eyes squinted as if the Mercedes were an aquarium and I was the strangest fish that he had ever seen. He was a handsome bull, I'll give him that, even though his head was as big as a butcher's block."
The writing is fresh and unexpected. Never cliched. With each paragraph, Koontz paints people and scenes so vividly, I grinned as I listened.
Interweaving physical traits with character traits
The physical traits Koontz chooses for a character have purpose and come into play both in how the person acts and also how Odd Thomas is affected by those traits.
Here's Sister Angela, a nun with periwinkle-colored eyes:
"With the power of her personality, Sister Angela can compel you to meet her eyes. Perhaps a few strong-willed people are able to look away from her stare after she has locked on to their eyes, but I'm not one of them. By the time I told her all about bodachs, I felt pickled in periwinkle."
Vivid back story in tantalizing bits:
Koontz shares back story in tiny snippets that are woven in with powerful effect. In his first description of Sister Angela, he says:
"Her eyes are the same merry blue as the periwinkles on the Royal Doulton china that my mother owed, pieces of which Mom, from time to time, threw at the walls or at me."
Wow. Didn't see that coming. Now I know Odd had a problematic relationship with his mother, and I'm not likely to forget.
Fixing time and place
A lot happens in each Odd Thomas novel but often in a very short period of time. In the course of a chapter, only a few minutes may pass. It would be easy for readers to get disoriented, but Koontz makes sure readers stay with him.
"From the time I had unlocked the bronze door with my universal key until I entered this room, not even two minutes had passed."
These are a few of the writing gems I took away from reading two of Koontz's novels. Is Koontz writing great literary fiction? No. Is he writing novels based on great characters and solid plot lines using original language? You bet.
As a reader, it's a delight to try out a new author and come away a fan. As a writer, it's inspiring to find an author who models writing techniques I aspire to use as well. I now count myself a Koontz fan, both as a reader and as a writer.
What about you? What new authors have you found that surprised and delighted you?