Simple Truth – Cover Reveal
By Carol / December 20, 2017 /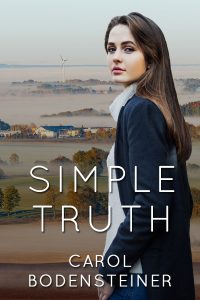 I'm pleased to share the cover of my upcoming novel, Simple Truth. The design is the work of Jenny Toney Quinlan, the talented designer who created the first edition cover of Go Away Home.
A cover that works for me, a cover that makes me pick up a book and look further, is one that tells a story about what I'll find inside. I believe this cover does that. The young woman is professional and confident, yet her expression is wary. The foggy landscape reveals layers, but we know there's more than we can see. The typeface is clean. Almost. Even there, there's a hook.
Each of us sees something different in a picture. Each of us looks for something different in a cover.
What do you think? What do you see in this cover?
Simple Truth will be released in early 2018.
SIMPLE TRUTH – Talented, ambitious public relations expert Angela Darrah is a pro when it comes to pitching her clients' stories to the media. But managing the fallout from a product recall for one of Iowa's largest poultry packing plants does more than put her skills to the test. The experience challenges her to face her own prejudices and to examine her career and herself in ways she never imagined.
Having landed a career-making assignment, Angela is stymied when the CEO who hired her resists her advice. Worse, he defers her to his right-hand man who keeps Angela off balance as he alternately supports and obstructs her efforts. When Angela finds an unexpected ally in a handsome Salvadoran plant supervisor, her professionalism wavers in the face of undeniable attraction.
As Angela immerses herself in the company and the town, she is faced with challenges similar to the company's immigrant workers. How will she navigate a new system and succeed in the face of obstacles and injustices she doesn't understand? Then, when she discovers corporate actions that are unethical, possibly illegal, Angela must confront the conflict between her duty to her client and her growing passion to fight injustice. Ultimately, she must decide: What is she willing to sacrifice to help someone else?
Simple Truth is a thought-provoking story intertwined with risk, retaliation, and reward.