Happy birthday, National Park Service
By Carol / August 27, 2016 /
The National Park Service marks 100 years this week. One hundred years of preserving our amazing natural resources. One hundred years of educating people on our great outdoors. One hundred years of giving joy to the millions of people from all over the world who visit the parks each year.
It's a good deal when the one having the birthday gives the gifts, though that's what the National Parks are. A gift. To celebrate this anniversary, here are pictures from my recent visits.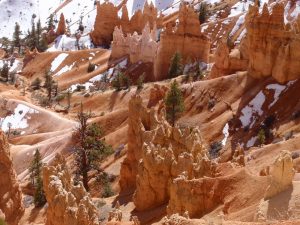 Utah boasts a multitude of striking natural landscapes. Wind carves away earth to reveal the tall, skinny spires of rock called Hoodoos at Bryce Canyon National Park, Utah.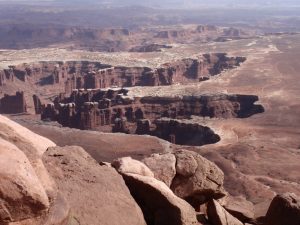 Looking down on Canyon Lands National Park, Utah, one gets the impression a dinosaur left its footprint.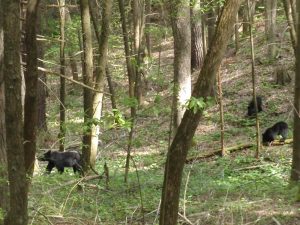 A mama black bear and her two cubs meandered in front of our car at Great Smoky Mountains National Park in Tennessee.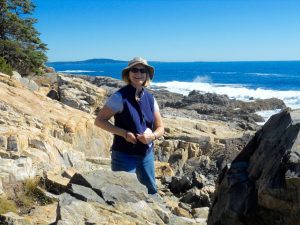 Acadia National Park, Maine, offers rugged Atlantic Ocean views and tasty crab rolls in local restaurants.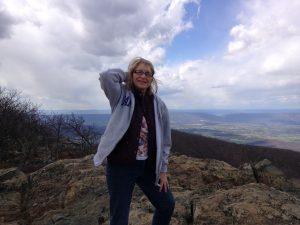 The Shenandoah National Park, Virginia, provided beautiful vistas, hiking, and a whole lot of wind. I'm not posing so much as trying to control my hair.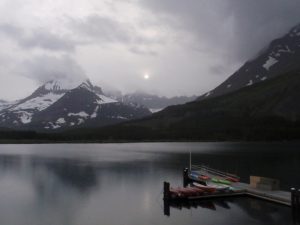 Glacier National Park, Montana, in June? Maybe not the best choice. Snow clogged mountain roads while rains closed valley roads, keeping us indoors much of the time. Cloaked in mist and clouds, the mountains were still beautiful. And we did spot both a bear and a moose.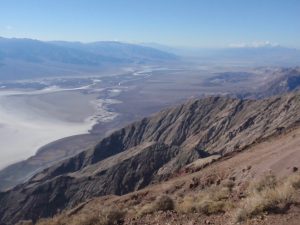 Water should not have been a problem in Death Valley National Park, California, but a record-breaking rain of 1/4 inch the day before we arrived flooded the valley. This impressed on me better than any ranger talk that Death Valley has no river outlet. Rain sheets off the mountains and accumulates on the floor with nowhere to go.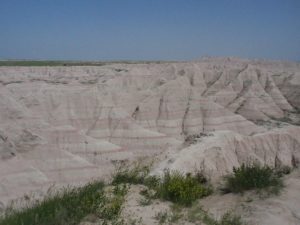 Striations in the hills of the Badlands, speak to millennia of geologic history. The first time I visited the Badlands – 40 years ago – I thought this must be what the moon surface looks like. At that time, there was no visible greenery. Since then, invasive plants moved in and patches of green are everywhere.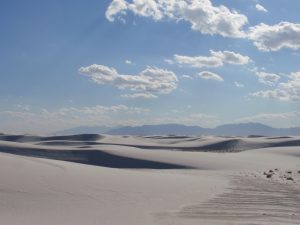 Though White Sands National Monument, New Mexico, is designated a monument, not a park, it's one of the most visually stunning places I've visited in the past few years. Wind moves the dunes a few inches every day, often covering the roads, which have to be plowed to enable traffic to move. The white sand created a visual/mental disconnect for me since I visited there in February when we still had snow in Iowa. It didn't help to see other visitors snowboard and sledding down the dunes.
Since the National Park Service was established, it's grown from the one park – Yellowstone National Park – to include over 450 parks, monuments, parkways, historic sites, and seashores. Whenever and wherever I travel these days, I check to see if there's a national park or monument along the way. They're always worth the time.
Are you visiting the National Parks? If you haven't, I hope these pictures whet your appetite. If you have, which have you enjoyed the most? Please leave a note. Then go have a piece of birthday cake.