A few of my favorite blogs – One Lovely Blog Award
By Carol / September 30, 2014 /
When I began blogging in 2009, I posted my writing for a full year before telling anyone I was doing it. I was trying out my voice, learning the "rules" of blogging, and seeing if I would stick to it.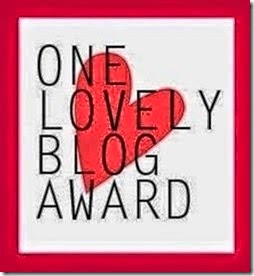 Five years later, I'm still at it, my topics as eclectic as when I began.
Since I could not stick to one topic (one of the rules of successful blogging), I was surprised and honored when author Bernice L. Rocque nominated my blog for the One Lovely Blog Award this past week.
On her blog 3Houses, Bernice shares family history stories, recipes, seasonal crafts. Her topics are eclectic (no wonder I like her) and fun. I encourage you to take a look at Bernice's blog.
As I reflected on all I've learned and the many friends I've made in the blogosphere, I thought this an appropriate time to recognize them and say thanks.
Here are the Rules for this Award
Thank the person who nominated you and link to that blog.
Share 7 things about yourself.
Nominate 15 bloggers you admire (or as many as you can think of!).
Contact your bloggers to let them know that you've tagged them for the One Lovely Blog Award.
Seven (7) Things About Me
I played the accordion for many years as a child. If I strapped an accordion on now today, I expect I could still play "Lady of Spain" and "The Beer Barrel Polka."
At my son's urging, I joined him for a day of sky-diving. The thirty seconds of free-falling was a close to flying like a bird as I'll ever get.
I grew up on a dairy farm and actually enjoyed milking cows. If I could find a B&B that included milking cows, I'd be there.
I have a prairie patch in my front yard where I enjoy learning the lessons of life and the names of each of the native plants. Someday, I plan to study the medicinal uses of each of these plants.
My publishing company Rising Sun Press is named for the small unincorporated village I live in. I would have called it Rising Sun Publishing, but that was already taken.
Enjoying the moment is a skill I continually work on. I work hard to remember, "Just this." "Just now."
Oct. 1 – An edit after posting – I frequently miss details, like there were supposed to be 7 things about me 😉 Or maybe this was another rule I broke.
Bloggers I Admire
My Blogger Friends
Many moons ago I vowed to pass on the endless stream of chain mail-like opportunities that come through on social media. It's a personal decision. No offense intended to anyone who likes them, participates in them, or tags me. Yet here I am. Many thanks to Bernice L. Rocque for nominating me.
I thank each of you for the wisdom and enjoyment I've gained from reading your blog. You've enriched my life. Please know that I release you from any obligation to continue this award/chain.
My Reading Friends
I find each of the blogs I've listed to be well written, interesting, entertaining, and educational. Check them out. You may find them worth regular reading, too.