Forging paths in the prairie and in writing
By Carol / September 12, 2013 /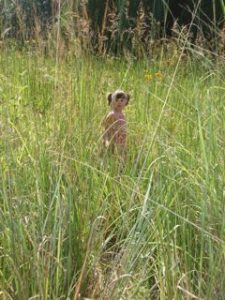 Since my granddaughters were born, I've taken them to the prairie every time they visit us. As little ones, they were carried in. As they grew older, I led the way.
On her last visit, I encouraged my oldest granddaughter, now four and a half years old, to take the lead. She hesitated. "You're an adventurer," I said. "I know you can find a way. You go ahead. I'll follow."  With that encouragement, she pushed ahead.
Her experiences in the prairie that day reminded me of my own journey in editing my novel. After an advanced novel workshop this summer, I got serious about editing my 118,000-word historical novel. Here's what she learned about prairie exploration and what I've learned about editing.
Don't be afraid. Just start. Seven-foot-tall prairie grasses and four-foot-tall flowers can be mighty intimidating to someone three-foot tall. The unknown can be scary, but once she got going, she thrived on the adventure. Having never edited a novel, I was hesitant about how it would go. But, really, there was nothing to do but start. Every day do something. The more I did, the easier it became to do more.
Accept help from someone who's been this way before. When my granddaughter hit a wall of foliage, she looked back to me. I could point her in a new direction, just as other editors pointed me. While blogging about my "crutch words," I learned about Sharla Rae's list of "echo words." Going word by word down her list, I was able to cut literally thousands of words from my manuscript. The result is infinitely better.
Trust your gut and affirm your own actions. My granddaughter might be blocked by the dense foliage, taking advantage of the paths made by other prairie visitors. or finding her own way, but the more she explored, the more excited she became. "I'm an adventurer," she said with delight, happy to claim her title. As I launched into editing, another writer made an off hand comment: "It all comes back to the author to decide what she wants." I've recalled that comment repeatedly as I learn to trust and act on what my gut tells me. I know these characters. I know the story I want to tell. I know when an entire scene needs to go. No one knows that better than I do. The editing experience affirmed me as a writer and as an editor.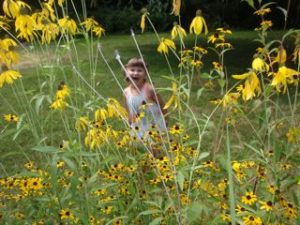 Take joy in the moment. The prairie is a joy-filled place for my granddaughter, heat, bugs, scratchy plants and all. Editing can be tedious but there are joys to discover. Finding a really right word or phrase to replace the easy one I'd started with. Recognizing that letting one character use a word repeatedly creates a character trait; letting several characters use that word is lazy and the word loses its power. Discovering that fewer words can have infinitely more power.
Once isn't enough. Each time my granddaughter emerged from the prairie, she was ecstatic. Then, she'd look for a way back in.When I finished one form of editing, like my granddaughter, I jumped back in with another approach. I searched out crutch/echo words. One at a time through the entire manuscript. After doing a word-by-word edit, I  read the whole manuscript through to see what had happened to the sense of it. More words and parts of scenes hit the cutting room floor. Then back to the beginning for a read-aloud edit. 
The editing journey has built my confidence, just as adventuring in the prairie build my granddaughter's confidence. In the process, I cut 15,000 words no one will miss.
How about you? When you've taken on new tasks, whether they be editing or otherwise, what have you learned from the experience? I'd love to hear your thoughts.